Four Cedars Honey, Gift Shop & Beekeeping Supplies
We are a small family farm of hobby beekeepers. Our bees are in two apiaries (bee yards) in Glenoma, Washington. Our bees forage on a variety of flowers throughout the year making award winning mixed wildflower honey. We cater to the local beekeeper selling everything beekeeping supply. And we have a great little gift shop of not only our honey and beeswax crafts but several other local hand crafted items!
Honey and Comb
It's a sticky but sweet business! The elder of the family specializes in producing the beautiful comb honey that is cut and packaged in boxes or in jars covered with liquid honey.
Learn More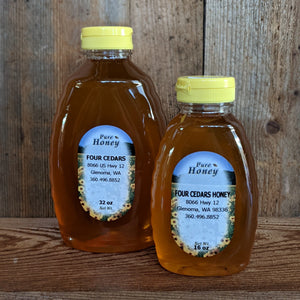 Local Raw Honey
Our local honey is considered light amber and it has a light floral flavor. This special honey has earned first place blue ribbon awards from the Washington State Fair in 2018 and 2019. Sold in several sizes of plastic or glass and even vintage style or specialty shape jars.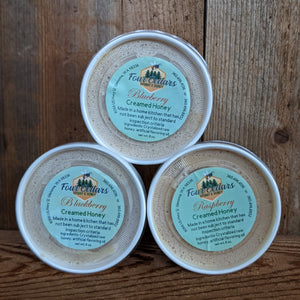 Creamed Honey
Creamed Honey is 100% raw honey with confectionery flavorings - no dairy as the name suggests! We whip and flavor our natural raw liquid honey until it coverts to a semi-solid spreadable form. Choose your favorite flavor for tea or toast! There are at least a dozen flavors sold only in the shop.
Gift Jars of Honey
Honey is a great gift especially if it is presented in a special container. These are reproduction vintage "Muth" jars with cork tops. Other specialty jars are available in the shop.
Gift Shop
The gift shop features several local crafters with their unique talent for one of a kind treasures for yourself or as that special
Learn More
Gift Baskets
Choose a ready made gift basket or request a custom made basket just for your special person. You can "Build A Basket" also... Just choose a container, fill it with your choice of gift shop items and we will put it all together with shrink wrap and ribbon!
Handcrafted Jewelry
One honeybee will make 1/12th of a teaspoon in her lifetime....Honey or pollen sealed in vials come with a story of the amazing work of honeybees. All jewelry in our shop is handmade by local crafters.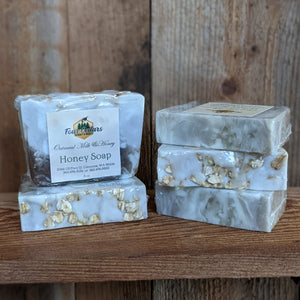 Honey Soap
Our soaps are sure to get you clean and the colors, swirls and fragrances are beautiful. All are handmade in small batches using the perfect combination of oils, butters, botanicals and a bit of honey.
Beekeeping Supplies
Pair large text with an image to give focus to your chosen product, collection, or blog post. Add details on availability, style, or even provide a review.
Learn More
What our Customers are saying
Add customer reviews and testimonials to showcase your store's happy customers.

Author's name
Add customer reviews and testimonials to showcase your store's happy customers.

Author's name
Add customer reviews and testimonials to showcase your store's happy customers.

Author's name
Add customer reviews and testimonials to showcase your store's happy customers.

Author's name
Location
Store Hours & Location
11am to 5pm Friday & Saturday
360.496.4136
8066 US Hwy 12, Glenoma WA 98336
Call for appointment outside of usual hours